China's robot industry boosted as demand emerges in fight against coronavirus (GT, 2020)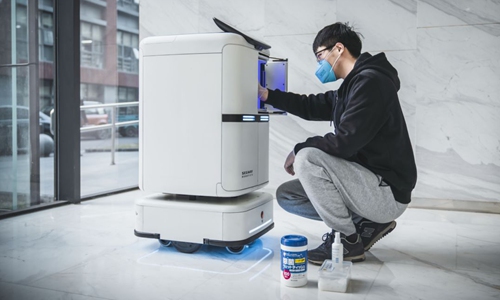 Intelligent robots in China have made a collective appearance amid the coronavirus epidemic with delivery, medical and disinfection purposes, contributing to prevention and control efforts. Experts say that though intelligent robot technology is still in an initial phase, the epidemic has offered a boost to the robot industry.
Chinese police wear smart helmets to check body temperature in crowds due to Coronavirus

Police in China can now screen out potential coronavirus carriers with the help of futuristic-looking smart helmets. Shenzhen-based Kuang-Chi Technology introduced police smart helmets that can quickly measure body temperature in crowds. The infrared cameras attached to the N901 helmets enable wearers to measure temperature from up to five meters away. They  have facial recognition.