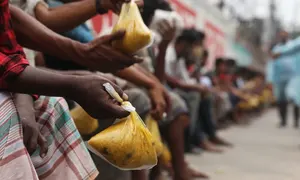 Farmers fear crops could be left to rot as coronavirus lockdown leaves them short of hundreds of thousands of seasonal labourers.
The head of the World Food Programme, who recently recovered from COVID-19, says at least 30 million people could die of starvation if the UN agency doesn't receive critical funding needed to feed the world's most vulnerable during the global pandemic.
For the first time in a decade, the world risks being cut off from Russian wheat at a time when some key buyers are rushing to import it.
Governments must act now to stop 265 million starving, warns World Food Programme boss
The global coronavirus pandemic threatens to cause a huge shock to international food trade and trigger a new food crisis, a top agriculture official in China said on Monday. "The fast spreading global epidemic has brought huge uncertainty on international agriculture trade and markets," said Yu Kangzhen, China's deputy agriculture minister.
As the coronavirus impacts continue throughout the U.S., manufacturers are highlighting the importance of curbside recycling as a feedstock supply channel. Meanwhile, processors are seeing changes in demand for their material as consumer spending shifts.